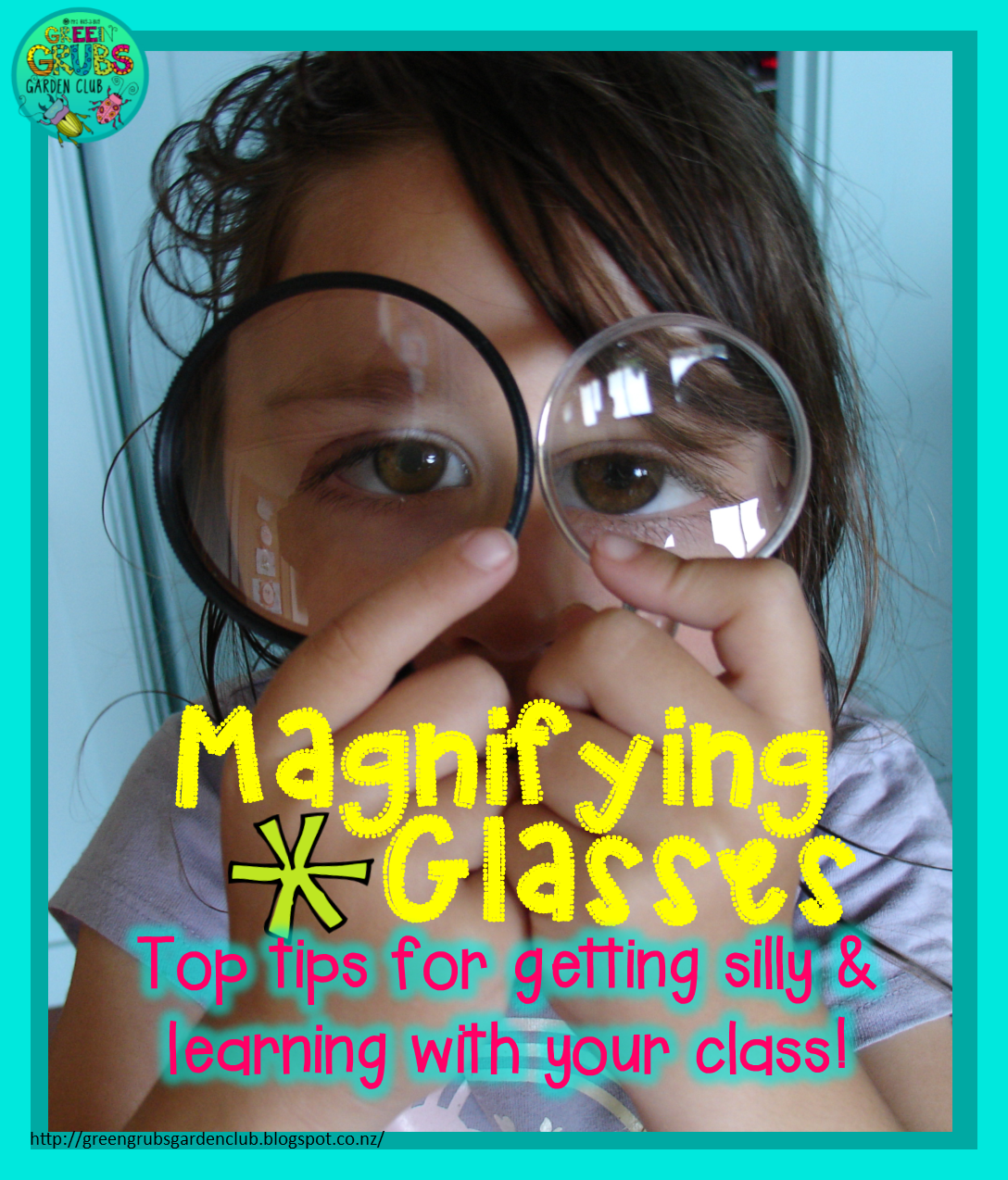 You can't get a more enthusiastic response to a science lesson than producing some magnifying glasses! A tub full of magnifying glasses is an essential part of any well stocked nature table, and is a great way to get your students involved in observing, comparing, describing and asking questions.

A 10 minute magnifying glass lesson can morph into just about any curriculum area….. science (obviously!) language skills, art, research, writing and more. Even your most reluctant learner should get their interest sparked by viewing something new and unusual. You could also take a nature walk to collect some special treasures to study before embarking on your magnifying mission.


~TOP 10 CLASSROOM FRIENDLY THINGS TO STUDY:~

1) Your hand (finger prints, pores, fingernails)
2) A friends eyes (or your eyes if you also add a mirror)
3) A piece of hair, pet fur or feathers
4) Fabric, Velcro, zippers and stitching
5) Insects (dried shells, spider webs and slow moving creepy crawlies!)
6) Plants, leaves, wood, bark & flowers
7) Rocks, pebbles or crystals (salt and sugar are also interesting)
8) Soil, dirt and seeds
9) Your lunch! Sandwiches, crackers, fruit, cheese etc.
10) Beach finds – seashells, sand and seaweed


USING MAGNIFYING GLASSES IN CLASS ~TOP TIPS~
Hand-lenses are much more powerful than the 'lollypop' shaped magnifying glasses, but are trickier to use (you have to hold the lens quite close to your eye and move very close to the object you're viewing, which is a little scary if you're trying to view a big hairy spider!) I'd suggest collecting a mixture of magnifying glasses if possible.

At the first introduction of magnifying glasses to your class, I'd suggest letting the kids be 'off-task' and free to explore and have fun (and by that I mean laugh hysterically at each other's giant eyeballs, check to see who has the most boogers up their nose etc!)

Encourage them to experiment with how far away to hold their magnifying glasses from their faces and from the object they're studying (most children hold them far too close to their face). SLOOWWLLYY moving the magnifying glass also works much better than jerking it around

If you're worried about your class using glass magnifiers, you can purchase plastic ones at most dollar stores (but plastic lenses scratch far more easily and have varying quality)

Make some connections between wearing glasses and using a magnifying glasses. Magnifying glasses have a curved 'convex' lens that makes things appear bigger – what do glasses have?

Think outside the box when it comes to magnification – do you have access to digital cameras with a strong zoom lens? (This has the added bonus of being able to save what you observe) Are your students old enough to gently handle a microscope? (These are also an amazing thing to include on your nature table if possible) Even better – does your school have access to a digital microscope? These are awe inspiring when hooked up to your overhead projector…

Don't forget to take a photo of your children with their magnifying glasses so they can share their learning with others later

If you need a little more structure, organise a variety of different stations around the classroom that the children can rotate through (sketching or making notes as they go)

If you have a special topic that you're learning about or studying, you might want to use the following sheet to scaffold their observations. The children start by draw a picture in the box about what they can see (before using the magnifying glass) then complete the sheet with their magnifying glass observations – "What can you now see that you couldn't see before?" You can find your free copy of this sheet below!
DISCLAIMER: The author takes no responsibility for cries of "Ohh my gosh Mrs__________ your wrinkles are ginormous" or "Whoa, that's a lot of grey hairs" etc….
Above all – have some fun! Science is all about observation and asking questions… no need to get too serious!
Happy magnifying,
Grubbily yours,