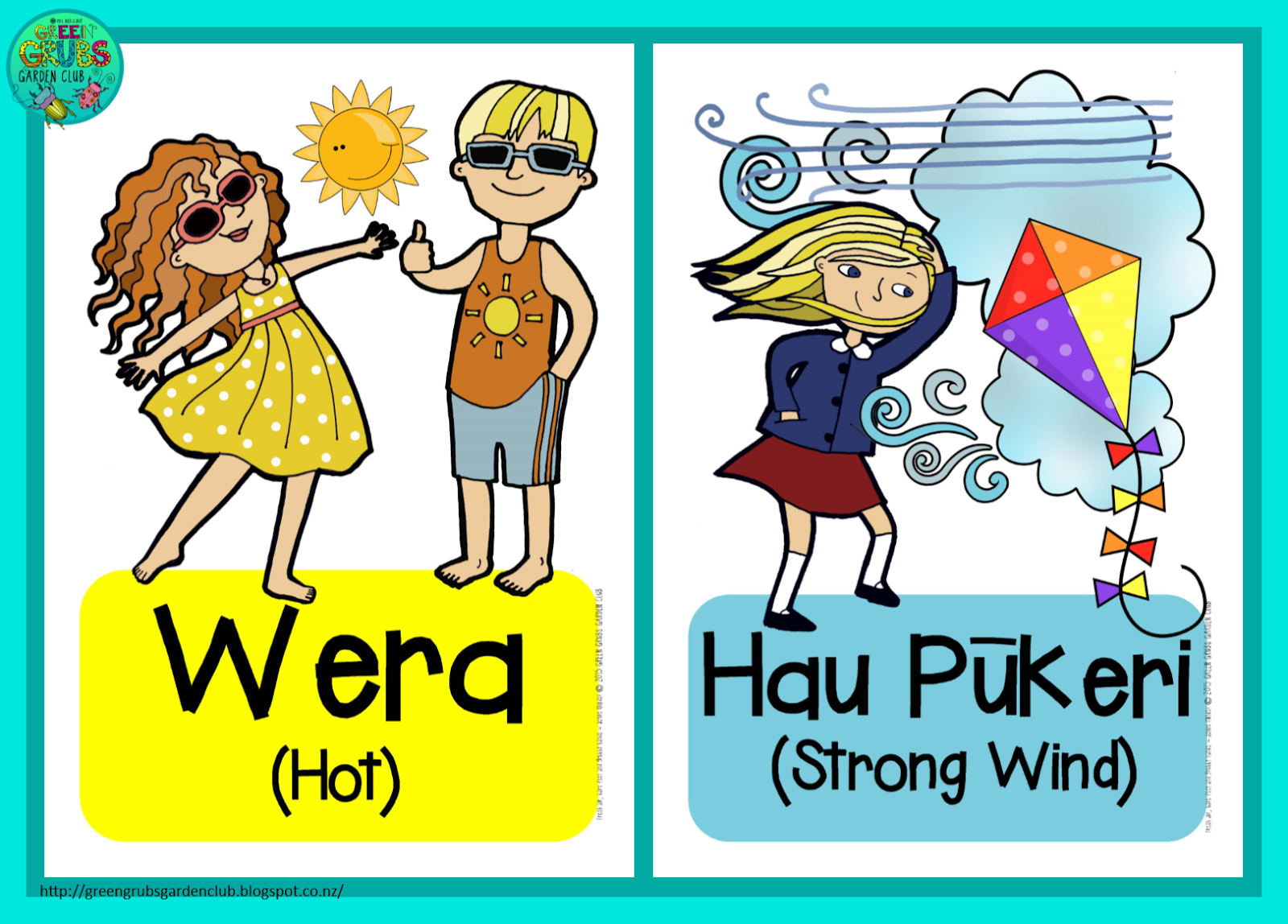 My beautiful Mum works at a special needs school, and recently needed a set of weather cards in Te Reo Maori and English to accompany a well known tune!  


All Kiwi kids know the following classic right?!
Ma is white,
Whero is red,
Kakariki green,
Mango is black,
Pango is too,
A E I O U!
Wera is hot,
Maku is wet,
Makariri cold,
Ua is raining,
Mahana is warm,
A E I O U!
Mum was wanting some visuals to accompany the song – cards that she could hold up with words in both Te Reo and English (plus some appropriate pictures) to use as cues for her little learners.  She had used the tune and added several new verses using other weather vocabulary to create a longer weather song!
In addition to the weather words included in the traditional version above, this free resource also includes the following new vocab:


Hukapapa is frost,
Kanapu is lightning,
Uenuku rainbow,
Patapata is raindrops,
Kupua is cloud,
A E I O U!
Hau pukeri is strong wind,
Paroro is storm,
Ua nganga hail,
Hukarere is snow,
Hukapapa is frost,
A E I O U!
(*Also included are: Whaitiri/thunder; Hauhau/windy; Paki/fine; Maaku/wet; Kaapuapua/cloudy; Puhoro/stormy; Kohukohu/foggy)

**My personal fave is 'patapata is raindrop' – how perfect is that?!  This set of A4 sized weather cards could be adapted for all sorts of uses (general classroom posters, or maybe as part of your morning calendar routine?)  We used the Maori words that were chosen by my Mum's colleagues – but please be aware that other words/translations might be more common depending on what part of the country you live in.  If you'd prefer a different word/translation (or to have a whole new weather word!) please leave me a comment below and I'll endeavor to insert a new page with an alternate option.

May the sun be shining where ever you are,
Grubbily yours

Are you looking for other bilingual resources?  You might want to have a peek at some of our best selling labels!  Click the 'Green Grubs Store tab (above) for a closer look – they're perfect to use as part of your daily roll call routine…