Mr 6 decided to spring the 'is Santa real?' question on me from the back seat of the car while on the school run yesterday 😥 He'd obviously been pondering the question for a while, as he'd come prepared with a list of evidence to back up his belief that Santa was, in fact, NOT real. 😬 
**Cue a quick scramble to compile a suitable explanation from various anonymous internet sources!* This is my version of several letters/ideas that have been floating around on the internet for sometime – such a great idea!
I'm not entirely sure why I wasn't prepared for this – having taught year 2 for years, I know that by the end of the year the class was normally split fairly evenly down the middle into believers and non believers!!) When did your kids stop believing? How did you explain things? 
I'll also pop the wording below in case you'd like to copy and paste into your own document to allow you to tweak it.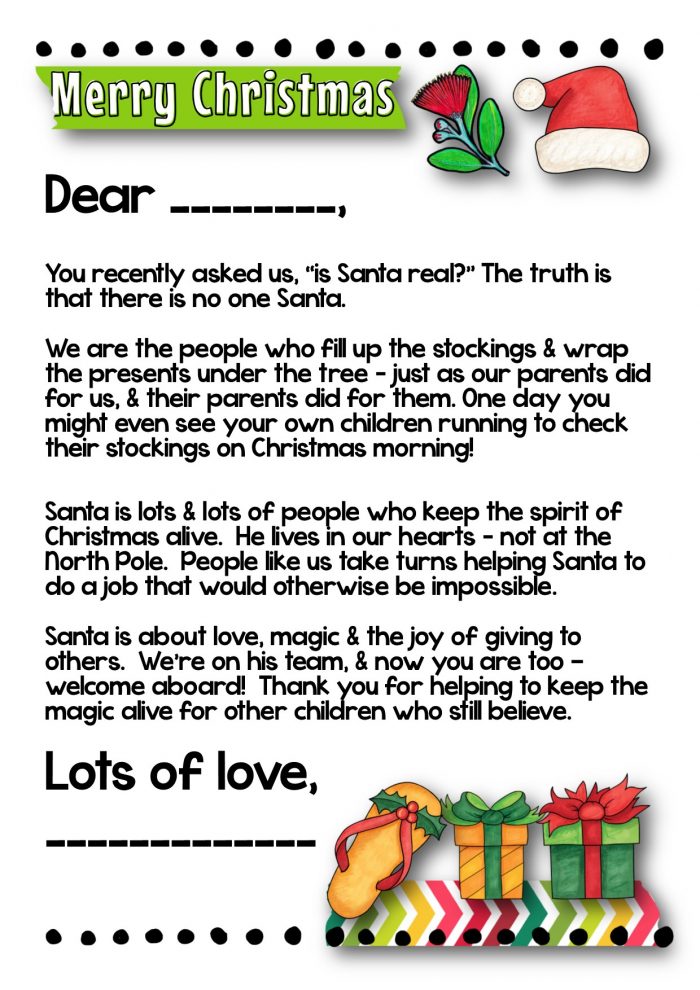 Is Santa real?
You recently asked us, "is Santa real?"  The truth is that there is no one Santa.

We are the people who fill up the stockings & wrap the presents under the tree – just as our parents did for us, & their parents did for them.  One day you might even see your own children running to check their stockings on Christmas morning!
Santa is lots & lots of people who keep the spirit of Christmas alive.  He lives in our hearts – not at the North Pole.  People like us take turns helping Santa to do a job that would otherwise be impossible.  

Santa is about love, magic & the joy of giving to others.  We're on his team, & now you are too — welcome aboard!  Thank you for helping to keep the magic alive for other children who still believe.